Kegworth Ghosts
The Great House, London Road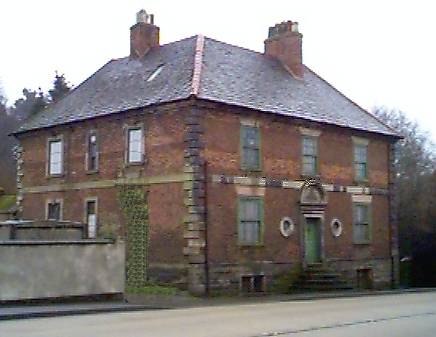 "Presences", seen either as fleeting figures, gone in the wink of an eye, or recognisable people, such as the large elderly lady, dressed in grey tweeds, seen walking towards the garden wall where formally there was a gate. Perhaps it was the same lady (dead only a few decades ago) whose footsteps are quite often heard by several people, walking as if on a flat surface, where there is now gravel. Also the same curious lady and one of forceful character, so one is told, insisted on raising the latch of the door connecting kitchen and sitting room. All very interesting although draughty on cold winter evenings, but when told to go in no uncertain terms, the latch lifting person duly departs. The presence is not malign or evil in any way, but merely curious I feel and really fully entitled to visit the house in which she once lived.
Different again are the distant sounds of conversation, just discernible but unintelligible and the occasional whiffs of cigarette smoke, when no one around is smoking. More disturbing are the rare evidences of a mischievous poltergeist, heavy objects moved several inches from their normal position and mundane objects like soap flake packets literally jumping around under ones eyes.
Peaceful manifestations include an old man sitting in a very high backed wing chair in front of a roaring fire, interesting since no fire has been lit in that fireplace for many years. All of these happenings indicate that the former owners formed an intense devotion to the house, one which is parallelled by the present inhabitants.
The Cedars, Aka Thomas Moore's House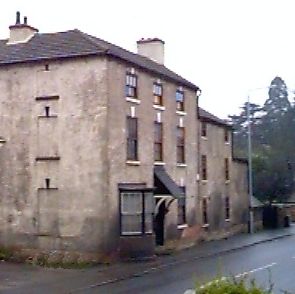 Thomas Moore's friend and benefactor. Lord Moira, who lived at Castle Donington Hall, helped Moore to look for a house in the neighbourhood. Moore requested Lord Moira to help him 'find out a house, neither too small, not too large, with a garden to it that will do for the residence of a poet'.
Lord Moira found such a house and Moore purchased and moved into the Cedars on London Road in the summer of 1812, and left Kegworth to live in Ashbourne in Derbyshire the following May.
In a letter dated March, 1812, Moore wrote 'My dear Dalby, I have agreed with Stevenson for the house at Kegworth - thirty guineas a year and I pay the property tax, which is rather an unusual thing, but I was glad to get it at any rate. Will it be too much trouble to you to put some one in the house to take care of it, and get everything necessary done before I send down the furniture? The water must be ladled out of the cellars, fires must be kept lighted in all the rooms, and THE GENTLEMAN UPSTAIRS must be ejected'. By 'the gentleman upstairs' he meant the phantom of a former tenant. Even today the house has a reputation of being haunted.
This 'gentleman' was apparently the ghost of a butler who had been murdered in the house. There was once a blood stain in the attic that could not be scrubbed off.
Mary Atkins, (father, George Suthers, a Revd at St Andrews), said, "I vaguely remember my father being called in to 'discourage' a grey lady who drifted up the stairs at The Cedars, and Lou and Ken Hayward, who had an antique shop in the Market Place, claimed to have one ... I think in their sitting-room".
and other Ghosts of Kegworth
.... taken from Loughborough Monitor dated Friday October 29th 1971.
Yet another white lady has been described to me by Grace Surrage of Kegworth who takes a keen interest in local history. She recounts how the late Dr Bedford, who lived at the Hermitage, lived quite happily with a ghost for many years. This white lady mainly frequented the main landing and passageway over the staircase. Her approach was often noticed by Dr Bedford by the rustle of her skirts.
A work man at the house on one occasion fled back up the cellar steps having encountered her, describing her as a white lady or a nun. Dr Bedford was apparently quite unconcerned and explained to him his familiarity with her.... hardly consoling the poor man, I imagine.
Now the White lady is a widely known figure. In the early 15th century one known as Bertha of Rosenburg is mentioned in Bohemia.
Back to Kegworth. About ten years ago a lorry driver very early one morning had his nerves jarred by a headless figure that came out of the churchyard gate crossed the main road in front of him, passed over the Market Place and through a white door of a 17th Century house, now demolished.
The Cottage Restaurant - High Street
In the 'Ladies Room' here you can have a constant companion, as yet unseen, but thought, or felt to be, "definitely a lady!" (Good job really!)
The Chestnuts - ("the Fosters Arms") (the Concord) 16 High Street
This building is haunted by an old lady wearing a long dark dress and a light coloured shawl. Her head and shoulders are bowed, giving the impression of quite a poor person. She comes from the bedroom over the kitchen and walks down the passage leading to the bathroom and then vanishes. The bathroom is situated at the rear of the house which is the original building and much older than the front. Three previous owners of the house saw her over a period of twelve years. Where has she gone to now that the building has been demolished or has she???
18 High Street
The end room on the ground floor is haunted by a boy lying in a bed and giving the impression of being very ill. This vision appeared each time the room was left unfurnished when Mrs Ryder lived there. Mrs Ryder was a shopkeeper and used this particular room for storing the stock.
When her relations came to look after the shop for her while she took a holiday, they were so upset by the vision that Mrs Ryder had to return home early as her relations refused to stay in the house.
The above building has been considerably altered and it often happens that this makes ghosts stop appearing, ........we must wait and see!
The Red Lion - 24 High Street
There have been very many odd happenings, usually quite late at night and when perhaps only the landlord, staff, night cleaners or decorators have been on the premises. Stories go, that it may be the white lady from down the road! 'It certainly is an old lady' and 'Usually the air goes quite icy when she brushes past' say the folk that have seen her. And there are Many!
A recent incident involving a local Painter & Decorator who would wish to remain anonymous, (but who, for the sake of argument I shall call "Cockney John") nearly involved "fisticuffs" when he was trying to get his very pasty (no pun intended) faced apprentice back into the building after she had brushed against him! He didn't succeed.
42 High Street
Now here we have a cat causing grief. Felt around a property that doesn't have a cat. A house guest was so convinced that he had felt a cat snuggling up to his feet on the bed, which was in a 'locked from the inside' room, that he left his bedroom to be found fast asleep in the lounge on a settee.
Handkerchief Barns - 48 High Street
I haven't quite figured this one yet but there's mischief afoot in two of the barns that were converted. It's not all of the time or even regular, but when people are alone in there, there certainly are some strange noises, things falling over, things moving or falling off shelves or out of cupboards. There have been multiple instances of people saying "I thought I saw someone/something". Unfortunately............it's happened to me too!
THE MORAL MUST BE:-
Be nice to old ladies and don't buy a property on High Street!
Do you have a ghost?.....
Surely they're not just on the High Street
.....Tell us!