Kegworth Town Cricket Club
Nottingham Road Playing Fields, Kegworth, Derby.
Saturday and Sunday fixtures through the summer.
Contact:
Richard Fowkes
(01509) 672698
112 Whatton Road,
Kegworth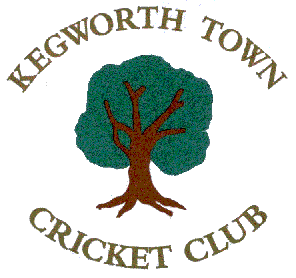 Leicestershire County League on Saturdays through the summer.
1st & 2nd team Friendlies on Sunday
Knockout cup and Evening league and Indoor games and nets in the winter
Excellent Colts Coaching and games for over 8?s
?
Plans for 2001
For the year 2001, Kegworth Town Cricket Club have already commenced indoor nets at Hindleys college on Thursday evenings and the Winter 'six a side team' have recorded four wins out of four in the Leicestershire indoor cricket competition.
The new season of outdoor league matches begins at the end of April with the first 11 competing in Division two of the Everards Leicestershire County Cricket League whilst the second 11 will compete in Division five. A full programme of friendly games has been arranged for Sunday's with a club day out planned for the away match at Matlock. A midweek team will fulfil fixtures on Thursdays in the Loughborough Cricket Association Talent Cricket Evening League, and the club has entered a number of Cup competitions.
The Colt's section of the club will play 'Kwik cricket' and 'Incrediball' at under 11 level and there will be league fixtures for the under 13's and under 15's. Outdoor nets and coaching will be available on Tuesday evenings and Sunday mornings for all playing members. The club's ground has been selected again by Nottinghamshire CCC And Leicestershire CCC to stage a number of junior county fixtures.
Dates for 2001
| | |
| --- | --- |
| Indoor nets. | 4th January for 15 weeks. |
| Annual Open Village Quiz commences. | 14th February. |
| Annual general meeting. | 05th March. |
| Club Car Rally. | June. |
| Fun Day. In conjunction with the Rotary Club. | July. |
| Annual Open 'six a side' Village competition. | July. |
| Annual dinner and presentation evening. | October. |
| Annual Christmas prize draw and social evening. | December |
For 2001 the club have appointed Australian visitor Roh Weddikkara to be Club Captain in the second and final season at Kegworth. Strong links have been established with Australia and three 'Aussies' have come over to enjoy cricket in England in the past few years and hopefully this will continue. The Yew Lodge hotel have kindly provided employment for Roh, enabling him to finance his extended stay in England.
Should any social secretary wish to arrange a cricket match for their group, or place of work, the club is happy to hire out the ground and facilities during the summer, whilst the club room and bar can be hired at a nominal fee for parties etc. throughout the year.
Anyone wishing to know more about Kegworth Town Cricket Club, should contact Richard Felt on (01509) 672698.
History of Kegworth Cricket Club
By David Buxton
The first recorded match played by the club was on July 3rd 1848 at Leicester Town. The successful Kegworth side on that day was:- Ward, Clarke, S Potter, J B Story, A Potter, G Lambert, J Bateman, W Hemsley, Berrington, Sturgess and Jameson.
The club's first ground was situated on Sideley. They next moved to a field on Long Lane, before settling at the present venue on King George V Playing Field.
Early matches were played on ill prepared wickets and consequently low scoring games were commonplace. Kegworth featured in the ultimate low scoring match against Diseworth who scored the only run of the game, and that was an extra! In another early game Kegworth dismissed Sandiacre for 4 runs, but in reply they could only equal that score.
During the first quarter of the 20th century three brothers played, Jim, Sid and Ernest Akers. An opening stand of 131 by Jim and Ernest is recorded. At that time the grounds man was Charlie Moss, a Saddler who worked from a shop on London Road opposite what is now the Parish Council Office.
Other early stars included Robert Sutton who played for over 50 years and was Secretary for 40 years until his death in 1948, Albert Cook a bowler who took all ten wickets for 9 runs in 1903, M.G.Beale who played well into his 70's and C. H. Dobbin, a big hitting batsman, who preferred to travel to away matches on his rusty old bicycle rather than in the team horse and cart. Other prominent members included Dr. J.J. Jeffares and Dr D.J. Bedford who both had a 70 year association with the club. Another big hitting batsman, E. Bostock, used to hit sixes breaking his own house windows on Nottingham Road.
Mid century stars included John Wall who in 1950 equalled Cook's feat by taking all 10 wickets against Long Whatton, Teddy Hickling who also played into his 70's and Len Clemence an opening bat, who despite the inconvenience of a wooden leg, could still bat better than some of his
team mates with two limbs!
Long Lane farmer Bill White began his playing career in 1937 aged 13 and became a feared big hitting batsman once scoring a century in 13 overs. He served me club as Captain and President until his untimely death in 1988. Bill's two sons Bill and John still play today continuing a 63 year family association with the club into the 21st century.
Into the last half of the 20th century George Green played a prominent part in the club's history. He was Captain and Secretary and held the club together during difficult times. Kegworth's success on the field benefited in the 60's with the influx of two players based at Sutton Bonington School of Agriculture. Pete Bradfield was a brilliant all rounder and he was later joined by Terry Boyes who once scored 153 before tea against Mountsorrel and then took 7 wickets after tea to win the match.
Another stalwart at that time was Pete Roberts, player. Captain and grounds man whose tireless work in co-ordinating a young committee led to the building of a new brick pavilion in 1970, replacing the old wooden one which stood on the Playing Field for over 60 years. Pete, fond of a
pint, insisted the new building incorporated a bar! The pavilion was altered to its present form in 1975 when the extension was opened by England Captain Ray Illingworth. The occasion was marked by a match against Leicestershire who included David Gower in their team. Modern
day players included Mick Salton who played for Leicestershire 2nds, Mark Briers who went on to play County cricket for Worcestershire and Durham; and Usman Afaal who enjoyed a season at the club before going on to open the batting for Nottinghamshire. In an effort to move with the times the club persuaded a young Australian cricketer Mark Farrell, to fly over and spend the 1996 summer in Kegworth. Mark so enjoyed himself (particularly at the Cap and Stocking) that he returned the following season. During his stay he was visited by his parents and his wife to be from Australia. Present stalwarts include Dick Fowkes, still playing in his late 50's, who has served the club as player, Captain, Secretary and Grounds man over a period of 45 years and myself (David Buxton)
who enters the new century in his 34th year as Treasurer of the club.
Since 1848, apart from one league season, Kegworth played friendlies right up to 1962 when the 2nd team joined the North West Leicestershire League, shortly to be followed by the 1st team. The most successful period began in 1975 when the 1st XI won the Second Division Championship and the Brian Clarke Cup.
1956?Front Row (I to r) Keith Smith (scorer), Stan Gelding,
George Green (Pads), Back Row (I to r) Ken Brydson, Ray
Cook, John Poxon, Pat Dean, Wilff Stevenson, Don Storer,
Bill White, Joe Talton (Umpire)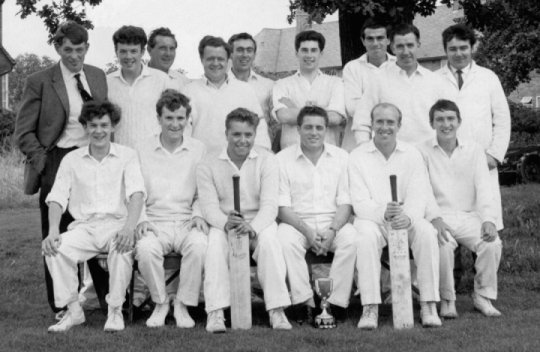 1965?Seated (I to r) David Storer, John Sketchley, George
Mellors, Stuart Payne, Pete Simpson, David Buxton
Standing (t to r) Richard Mellors (scorer), Mick Salton, Pete
Roberts, Brian Crump, Pete Bradfield, John Marshall, Dick
Fowkes, George Green, Nick Walters (Umpire)
The Club were first Division runners-up in 1976 and won the Loughborough Charity Cup in 1977 and 1978. The Rural Tankard Cup was also won in 1978 and the mid-week side regularly carried off the Castle Donington Evening League Cup. In 1982 the club moved to the higher standard of the Leicester Club League. The Aronsohn Cup was won in 1981 and the Loughborough Charity Cup was claimed for the third time in 1984.
The 2nd Team secured the Third Division Championship in 1986 and they have been runners-up in various divisions in 1982,1983,1989,1992 and 1996. The 1st XI have been runners up in Division 1 in 1984 and were again runners up in the Division 2 in 1996. The Club has also been winning indoor competitions in the winter months appearing in eight finals.
Going into the 21st century Kegworth Town Cricket Club is in a healthy state. The 1st Team play in Division 2 of the Everards Leicestershire County League whilst the 2nd XI Play in Division 6. The Club also fields a mid-week evening side, a Sunday Team which fulfills friendly fixtures and a winter indoor side. A thriving junior section also exists. In 1934 Secretary Robert Sutton recorded in the Annual General Meeting Minutes "we find difficulty, like a great many other clubs, in regaining former glories because of disinterest among the younger generation". Familiar words as we begin the new century but fortunately not at Kegworth. We are however always seeking new players of any age and any standard. Coaching is provided for juniors.
If you would like to know more contact :-
Dick Fowkes Tel: 672698, Ian Dade Tel: 673179, or Keith Tongue (Juniors) Tel: 820517.
Material for the article kindly supplied by Mrs J White, Long Lane Farm.