Kegworth Village Association And Museum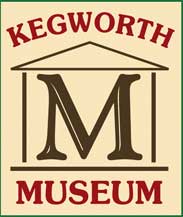 Kegworth Village Association was formed in 1971. Its aims are not only to try to preserve and generate an interest in the history of the Parish of Kegworth - but also to encourage an awareness of the present day environment.
The Kegworth Village Association (K.V.A.) publishes an annual Bulletin - a local history journal - "Cogwords", a copy of which is included in the annual subscription. Various social functions are organised as well as the annual Easter Charter Market and Fair on Easter Monday whose 13th century Charter was revived by K.V.A in 1976. The market is held in the Market Place with various stalls affiliated with the organisations and charities that are running in the village.
One of the main aims of the K.V.A. was to work towards establishing a village museum to house their growing collection of artefacts and ephemera relating to Kegworth, and eventually these succeeded in realising their dream by purchasing a 19th century barn on High Street in 1990. It was officially opened as Kegworth Museum on 30th May, 1992. The Museum continues to thrive and is well worth a visit. The history of Kegworth and surrounding area is well planned out and continues up to the present day. The staff are very knowledgeable and are willing to help with any information you wish to know about the village.
A membership of 119 Families and Individuals, donating £5.00 or £3.00 respectively, help towards costs and the issue of the annual Cogword Magazine.
A book, Kegworth - Aspects of History is for sale at £6.50 from the Museum or Parish Council Office.
Kegworth Village Association and Museum are a Registered Charity [Number 501573]
| | |
| --- | --- |
| President:- | A Ridley-Thompson, The Hermitage, London Road, Kegworth |
| Chairman:- | Tom Goode, West Bank Mews, Kegworth |
| Vice Chairman:- | Dr David Houseman, 7 Dragwell, Kegworth |
| Treasurer:- | K Fordham, 141 Forest Road, Loughborough, Leics (01509) 214460 |
| Membership Secretary:- | Ian Gelsthorpe, 24 Pennine Close, Shepshed (01509) 567577 ian.gelsthorpe@ntlworld.com |
| Secretary:- | B.N. Moore, April Cottage, 20A New Street, Kegworth. DE74 2FT (01509) 672886 |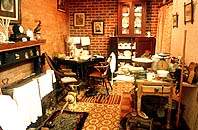 Kegworth Village Association (Museum)
52 High Street, Kegworth, DE74 2DA
2p.m. - 5p.m. Wednesday and Sunday, Easter to September. Committee meetings 3rd Monday each month.