St. Andrew's Parish Church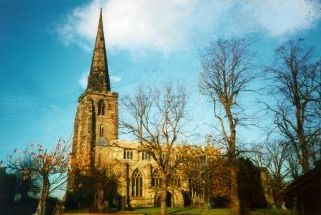 The Parish Church stands on a commanding site overlooking the Market Place where Kegworth people have worshipped for a thousand years
and where the present building has stood almost unchanged since 1387.
Most Medieval churches are a mixture of styles, having been altered and added to down the centuries. Kegworth church is unusual as far as it is mainly all from the same period of time. The present church is one of the largest parish churches in Leicestershire, complete with chancel, nave and aisles, wide transepts and a large western tower and spire. All that remains of the previous Norman church is the rough stone walling of the lower part of the tower, the large double buttresses and the elegant Spire are all 14th century.
Originally the church had steeply pitched roofs, but in the 15th century the Nave walls were raised to accommodate Clerestory windows to flood the Nave with light. The present flat pitched roof is spanned by great oak tie beams carrying matching purlins with elaborate carved bosses at the intersections. Its unique feature is a series of fourteen figures representing medieval bands-men with their instruments - including a bagpipe, a tambourine, a trumpet and a harp. Unfortunately only one of the figures is original, the remainder were beautifully re-carved in the restoration of 1860. In the Pre-reformation times there were three chantry chapels in the Transepts, evidence by the three Piscenae which still remain. On the south side of the Chancel is an old Aumbry recess besides a forth Piscena and two sedilla.
Although we do not have our own Parish Priest at the present time, we have not missed a regular service since the Interregnum began in March 2001. We have a network of our retired Clergy who have been taking services and there is no reason why this should not continue until our new Rector is appointed.
Everyone is welcome to attend and you can be assured of a friendly reception.
Contact Details:
Church Wardens
Bill Watson - 23 Ashby Road Kegworth. Tel 01509 673 393 watsonwa@aol.com
Neil Pascoe - Tel. 01509 551 815
Pastoral Assistant
Linda Pascoe - Tel. 01509 551 815
Team Rector
Gill Turner-Callis
Services:
Kegworth belongs to a United Benefice Team Ministry consisting of a Team Rector (Gill Turner-Callis), a team Vicar, Rev Alison Prince (based in Belton) and a Pastoral Assistant, Linda Pascoe. The United Benefice consists of the parishes of Kegworth, Hathern, Long Whatton, Diseworth, Belton & Osgathorpe.
WEEKLY SERVICES
EVERY SUNDAY
8.00am HOLY COMMUNION (BCP).
6.15pm EVENSONG (BCP).
1st & 3rd SUNDAYS
10.30am FAMILY WORSHIP.
2nd, 4th & 5th SUNDAYS
10.30am SUNG EUCHARIST.
EVERY WEDNESDAY
9.30am HOLY COMMUNION (BCP).
OTHER SERVICES
EVERY OTHER WEDNESDAY
2pm PRAM SERVICE - in term-time only, for pre-school children & their carers.
EVERY 4th SUNDAY
4pm MESSY CHURCH - fun craft activities for families. (NOT in August).