Royal British Legion
Contact: F. L. Moseley (Branch Secretary)
Phone: (01509) 672078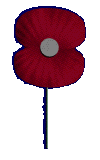 Royal British Legion Headquarters
48 Pall Mall
London
SW1Y 5JY
08457725725
The Royal British Legion exists to promote the welfare, by charitable means, of all ex servicemen, ex servicewomen and their dependants.
We at Kegworth help ex-servicemen and their dependants by providing help when necessary in the form of home visits, hospital transport, the provision of wheelchairs, advice and sadly, the offer of a wreath and flag in the case of bereavement.
Our committee consists of members of the Royal British Legion and also associate members (who, although not ex service personnel, subscribe annually). If anyone would like to become a member or feels they can offer any type of help, please contact the branch secretary.
There is a committee meeting held at 8p.m. on the second Wednesday of each month at the Red Lion, High Street
Branch Secretary
F.L. Moseley
24 Staffords Acre
Kegworth
DE74 2HY
(01509) 672078